Watch the Trailer!
Get ready for some platforming! Grab your Speer (which is like a spear but cooler) and navigate through a bunch of stages filled with spikes, lasers, bounce pads, switches, doors, teleporters and anything else I can think of. Throw your Speer into walls and jump on it, use it to flick switches, hit enemies in the face with it…the possibilities are endless!*
*The possibilities are not endless
Also Check out [Speer DX], Coming Soon to Steam!
Get the Game!
Join my mailing list!
You'll get notified whenever cool stuff happens!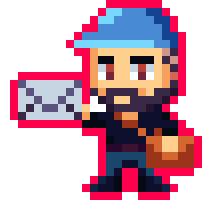 Help Me Make More Games!
Become an excellent patron on
Patreon
to help me make more games, and grab yourself some kickass perks such as early access, early builds, exclusive updates and more!