About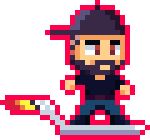 So, What is This?
I'm Andrej. For my 4th birthday, I received a Mega Drive with Sonic the Hedgehog and Castle of Illusion, and my life would never be the same.
I grew up fighting on the Sega side of the Great Console Wars and eventually started to make my own games, because of course I did. That's not all I did though; I also got a BA degree in Japanese Linguistics and a Masters in Modern Japanese Studies. And while I'm currently doing my PhD, I secretly hope that I can eventually make a living off of video games. Don't tell anyone!
So now I'm making games, and that's awesome. And because it's awesome, I want to help others make games too! That's why I started writing blogs and tutorials. After all, the more games there are, the better!
But for now, my main gig has to be the PhD stuff, along with the translation work I do on the side to make money, since…well, it makes me money.
However, you have the power to change that!

By inserting a coin or two into my Patreon machine, you can directly support my gamedev habit and net yourself some cool perks in the process! The more support I get the more time I can dedicate to gamedev, blogs and tutorials. Doing gamedev full-time is my dream, and I am most thankful for anyone who can help me achieve that dream. The modern internet may be a haven for heinous dudes and questionable porn, but it has also made it easier for a lot of people to realize their dreams and to both receive and give support for anything they hold dear. And that is most excellent.
That said, throwing money at my face is of course not the only way to support me. Just enjoying my games and telling others about them already helps more than you might think! So, if you're short on cash but still want to help me out, shouting at others about the things I do is a great way to do that.
In the end, we're all stuck on the same planet and should strive to make our time here a most triumphant one. As the great philosopher dudes William "Bill" S. Preston Esq. and Ted "Theodore" Logan once said: Be excellent to each other. And party on!
-Andrej